At Barbas Bellfires we produce everything under one roof in Bladel, a stone's throw from Eindhoven. Our factory and the head office are located here. For us a fireplace is not just an anonymous piece of steel, but an individual interior design product. We create it with love so you will also love it. Each fireplace is tailor-made: from 120 basic models in more than 17,000 combinations, we build the fireplace that you want and which best fits into your interior design and reflects your taste. The fireplace then passes through the entire factory, bearing your name, and is meticulously checked at every step of the way. This is no production line work; most of it is done by hand. Therefore, ever fireplace is a personal masterpiece of the technician. And this is the passion that you can feel!
How long does it take from the preliminary work to the assembly? Only six hours!
We have summarised these six hours in this video . You can see for yourself the process that takes place before your fireplace is installed in your house.
The process – from order to installation
Preliminary work
Your order – which we receive from the dealer – is recorded in a work order with a barcode connected to your name. Such an order contains all the parts necessary for the fireplace. During the preliminary work, all the necessary parts are set (bent) and welded to each other. Good preliminary work is vital for the quality and lifespan of your fireplace or stove.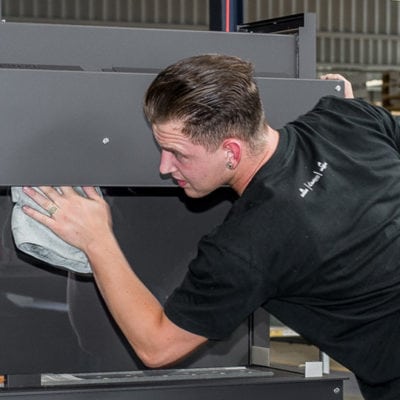 Paint Shop
The fireplace parts are hung on a transport system on their way to the paint shop. First they pass through the launderette where they get degreased and washed. The conveyer system continues and brings the parts to the spray booth. Spraying is done by hand. Even the most difficult to reach corners are not overlooked. From there the parts are transported to the oven where the varnish is baked. The baking process prevents the fireplace/stove from spreading unpleasant odours the first time that it is stoked. It also makes the fireplace/stove less susceptible to damage. After 45 minutes, the varnish hardens and the parts are ready for assembling.
Assembly
Assembling your fireplace or stove is also done entirely by hand. Regardless of the model and its dimensions, our technicians connect the parts to create a perfectly fitting total appliance. After that, the sealing cords around the window are applied and the interior is installed. After assembly, the fireplace/stove is ready for transport. Within 24 hours your new asset is delivered to the dealer, who will install it in your home as soon as possible.