A gas fireplace needs oxygen. Without oxygen it cannot burn. But it differs where this oxygen comes from. You can opt for an open or balanced flue system.
Closed combustion system
Stoves with a closed combustion system get the oxygen via an external pipe (supply duct). Therefore from the outside. The flue gases are subsequently exuded via the internal pipe (discharge duct). One of the advantages of this combustion system is that you don't need a chimney. In addition, this is an ideal solution for houses that are ventilated mechanically, because no air is extracted from the house.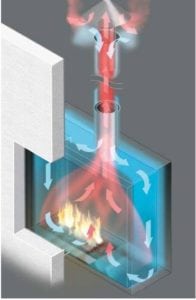 Open combustion system
Gas fireplaces with an open combustions system take the oxygen from the room in which the appliance is installed. Therefore, they have an open connection with your room. The flue gases are exuded to the outside via a separate flue duct. The Unica-2 series of Bellfires has an open combustion system. By the way, an open system does not mean that there is no glass plate at the front side of the stove. The combustion chamber is actually totally closed off. The term 'open' is only related to the way the air reaches the fire. What is the biggest advantage of our fireplaces with an open combustion system? The diameter of the flue tube is only 10 centimetres. That's why the appliance can be placed in nearly every open fireplace without any significant reconstruction work.